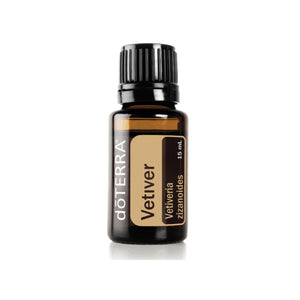 doTerra Essential Oils
Vetiver -15mL Essential Oil
Regular price
$70.00
$0.00
Unit price
per
Derived from the roots of the thick Vetiver grass, Vetiver essential oil has a grounding, earthy, calming aroma often used during massage and in perfumes. Its relaxing fragrance supports a peaceful environment, especially useful at the end of a long day.
Description
Why should I add Vetiver essential oil to my collection? Vetiver contains multiple sesquiterpenes (complex organic compounds with a strong scent found in plants) including carvone, isovalencenol, and khusimol. These compounds give Vetiver essential oil a particularly grounding aroma, more so than any other root or plant essential oil, which make it exceptionally useful in an essential oil collection for both its aromatic and topical applications.
 Uses
Cosmetic
Add two drops Vetiver oil to a warm bath for a relaxing aroma.
Add one drop Vetiver oil to moisturizer for a revitalized appearance.
Apply one to two drops Vetiver oil to neck and wrists as a personal, earthy fragrance.
Apply two drops Vetiver oil to bottoms of feet for a grounding aroma before bedtime.
Combine three to four drops Vetiver oil with Fractionated Coconut Oil and apply topically to feet and legs after a day of standing as a calming aroma during a soothing massage.
Household
Use one to two drops Vetiver oil as an earthy base note in a diffuser blend.
Diffuse one drop Vetiver oil with equal parts Lavender oil and Wild Orange oil for a relaxing, uplifting aroma.
Directions for Use
Diffusion:
Use three to four drops in the diffuser of your choice.
Topical use:
Apply one to two drops to desired area. Dilute with a carrier oil to minimize any skin sensitivity.
Cautions
For external use only. Possible skin sensitivity. Keep out of reach of children. If you are pregnant, nursing, or under a doctor's care, consult your physician. Avoid contact with eyes, inner ears, and sensitive areas.
---
Share this Product
---