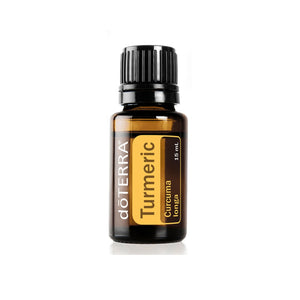 doTerra Essential Oils
Turmeric- 15ml Essential Oil
Regular price
$48.00
$0.00
Unit price
per
Turmeric essential oil, derived from the parent plant of the popular cooking spice ground turmeric, has a warm and energizing yet soothing aroma. Versatile in its use, Turmeric essential oil flavors beverages and foods, is exceptionally useful in aromatic practice, and is often used in skincare to promote clean, healthy-looking skin.
Description
Why should I add Turmeric essential oil to my collection? Much like other essential oils derived from roots (such as Ginger oil, Vetiver oil, and Spikenard oil), Turmeric oil bears an earthy and grounding aroma. However, Turmeric essential oil uniquely contains the chemical components Turmerone and ar-Turmerone, making it particularly effective as a food flavoring and skin cleanser. Ultimately, Turmeric essential oil is one of the staples of a daily wellness routine.
 Uses
Cosmetic
Combine one drop Turmeric oil with facial cleanser in the morning to support clean and healthy-looking skin.
Add one drop Turmeric oil to a facial or body moisturizer to support the appearance of healthy skin.
Use two to three drops Turmeric oil with Fractionated Coconut Oil for a grounding aroma during a soothing massage.
Food
Use up to one drop Turmeric oil in cooking for a flavorful twist in favorite recipes.
Add one to two drops Turmeric oil in teas, smoothies, or other beverages for a soothing aroma and delicious taste.
Household
Diffuse three to four drops Turmeric oil for an uplifting and energizing aroma.
Add two drops each Turmeric oil and Bergamot oil to a diffuser for a soothing and positive aroma.
Directions for Use
Diffusion: Use three to four drops in the diffuser of your choice.
Internal use: Dilute one drop in 120 mL of liquid.
Topical use: Apply one to two drops to desired area. Dilute with a carrier oil to minimize any skin sensitivity.
Cautions
Possible skin sensitivity. Keep out of reach of children. If you are pregnant, nursing, or under a doctor's care, consult your physician. Avoid contact with eyes, inner ears, and sensitive areas.
---
Share this Product
---