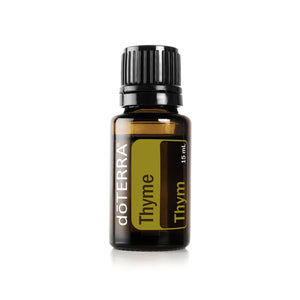 doTerra Essential Oils
Thyme Essential Oil - 15 ml - doTerra
Regular price
$50.33
$0.00
Unit price
per
While its parent plant is known for its use in cooking, Thyme essential oil similarly adds flavoring to foods but also has a warm, herbaceous aroma and contains chemical constituents that make it a powerful topical cleanser, particularly when used on the skin and hair.
Description
Why should I add Thyme essential oil to my collection? While Thyme essential oil carries an herbaceous aroma and surface cleansing benefits similar to other herb essential oils, Thyme oil is particularly useful in self-care and hygiene practices. When used in food and beverage flavoring, Thyme offers a fortifying flavor similar to that of Oregano oil.
 Uses
Cosmetic
Add one drop Thyme oil to a nickel-sized dollop of shampoo for youthful, healthy-looking hair,
Add three drops Thyme essential oil to a warm footbath to improve feet's appearance.
Combine one drop Thyme oil with 120 mL of water and gargle to freshen breathe.
Incorporate one to two drops Thyme oil with at least 15 drops Fractionated Coconut Oil for an invigorating aroma during a soothing chest massage.
Dilute one drop Thyme oil with at least ten drops Fractionated Coconut Oil and apply to targeted areas to clean skin or nails.
Food
Add two to three drops Thyme oil as a flavoring in marinades.
Household
Use two to three drops Thyme oil in a naturally sourced all-purpose surface spray to cleanse and purify common surfaces in the bathroom or kitchen.
Directions for Use
Diffusion:
Use three to four drops in the diffuser of your choice.
Internal use:
Dilute one drop in 120 mL of liquid.
Topical use:
Apply one to two drops to desired area. Dilute with a carrier oil to minimize any skin sensitivity.
Cautions
Dilute before use. Possible skin sensitivity. Keep out of reach of children. If you are pregnant, nursing, or under a doctor's care, consult your physician. Avoid contact with eyes, inner ears, and sensitive areas.
---
Share this Product
---