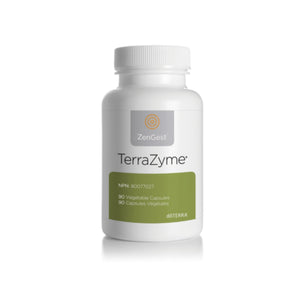 doTerra Essential Oils
TerraZyme
Regular price
$64.00
$0.00
Unit price
per
TerraZyme is a specialized daily supplement and digestive aid featuring a proprietary blend of digestive enzymes that are commonly lacking in many cooked and processed foods. When taken as directed, TerraZyme allows you to enjoy your favourite meals more fully from start to finish. Take as needed for occasional aid digesting highly processed, carb, or protein rich foods, or take daily for proactive digestive support. 
Description
Each serving of TerraZyme provides a specialized complex of active whole-food enzymes that aid the digestion of proteins and carbohydrates, help reduce gas production, and help prevent intolerance of certain food compounds. In addition to these essential enzymes, TerraZyme also delivers the supportive benefits of peppermint leaf, ginger, and caraway seed, all together in a vegetarian capsule. TerraZyme is best taken with meals rich in vegetables, whole grains, and other fermentable carbohydrates such as legumes and beans.
 Uses
Source of digestive enzymes
Supports the proper digestion of proteins and carbohydrates
Helps reduce gas production/flatulence following a meal rich in fermentable carbohydrates (such as vegetables, pulses/legumes/beans and whole grains).
Helps prevent gastrointestinal intolerance of oligosaccharides/fermentable carbohydrates.
Directions for Use
Take up to three (3) capsules per day with your first bite of food/meal.
Take one (1) capsule if your meal consists of fresh or raw foods.
Take two (2) to three (3) capsules if your meal consists of highly processed or cooked foods.
Cautions
Consult a healthcare practitioner prior to use if you are pregnant or breastfeeding; have diabetes, a peptic ulcer, excess stomach acid, a gastrointestinal lesion/ulcer, anaemia, or gallstones; are taking an anticoagulant/ blood thinner or an anti-inflammatory; or are having surgery or experiencing acute abdominal pain. If symptoms of gastrointestinal intolerance persist or worsen, consult a healthcare practitioner. If you have an allergy to latex or fruits (such as avocado, banana, chestnut, passion fruit, fig, melon, mango, kiwi, pineapple, peach, and tomato), consult a healthcare practitioner prior to use. Do not use if you are allergic to plants of the Apiaceae/Carrot family. Headaches, heartburn, bloating and hypersensitivity/allergy have been known to occur, in which case, discontinue use.
---
Share this Product
---