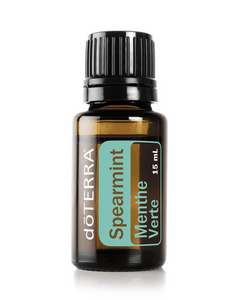 doTerra Essential Oils
Spearmint Essential Oil - 15 ml - doTerra
Regular price
$48.00
$0.00
Unit price
per
Widely used in gums, candies, and dental products, spearmint is a common mint herb whose benefits, taste, and aroma are more concentrated and amplified in Spearmint essential oil. Spearmint oil has a soothing, sweet taste, a refreshingly minty aroma, and gentle skin soothing properties.
Description
Why should I add Spearmint essential oil to my collection? Similar to other mint essential oils, Spearmint essential oil regularly appears in food and beverages, has an invigorating yet soothing aroma, and gives a tingling, invigorating sensation to the skin. However, Spearmint essential oil is a much milder alternative to other mint essential oils, making it perfectly suited to those with sensitive skin.
 Uses
Cosmetic
Add three to four drops Spearmint oil to the floor or walls of the shower for a refreshing, uplifting aroma.
Combine one drop Spearmint oil with Fractionated Coconut Oil and apply to back, neck, and shoulders for an invigorating sensation on the skin.
Mix ten drops Spearmint oil with water in a spray bottle and spray over the body for a naturally sourced personal aroma.
Apply one drop Spearmint oil to toothbrush prior to toothpaste for an extra burst of flavor and a clean feeling when brushing teeth.
Food
Add one drop Spearmint oil to hot cocoa or tea for an invigorating flavor.
Add one drop Spearmint oil to desserts, drinks, salads, or entrées.
Household
Diffuse three to four drops Spearmint oil for a soothing aroma during cold winter months.
Directions for Use
Diffusion: Use three to four drops in the diffuser of your choice.
Internal use: Dilute one drop in 120 mL of liquid.
Topical use: Apply one to two drops to desired area. Dilute with a carrier oil to minimize any skin sensitivity.
Cautions
Possible skin sensitivity. Keep out of reach of children. If you are pregnant, nursing, or under a doctor's care, consult your physician. Avoid contact with eyes, inner ears, and sensitive areas.
---
Share this Product
---