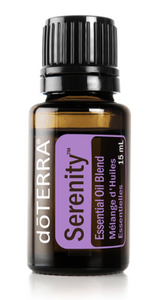 doTerra Essential Oils
Serenity® Restful Blend -15mL Essential Oil
Regular price
$54.67
$0.00
Unit price
per
Capture the essence of true serenity with the sweet, calming aroma of doTERRA Serenity essential oil blend. Just one drop transports you to a world of tranquility and helps you create a restful environment ideal for bedtime.
Description
Why should I add doTERRA Serenity essential oil blend to my collection? The calming aroma of doTERRA Serenity is heavenly blend of CPTG® Lavender, Cedarwood, Coriander, Ylang Ylang, Marjoram, Roman Chamomile, Vetiver, and Sandalwood essential oils with hints of Tonka Bean and Vanilla Absolute, expertly blended to create a serene and balanced atmosphere. While preparing for bed, rub doTERRA Serenity on the bottoms of your feet for a sweet, soothing aroma or leverage the Lavender in this blend by diffusing at night as a part of a positive sleep practice. For a well-rounded nighttime routine, use in conjunction with doTERRA Serenity Restful Complex Softgels.
 Uses
Cosmetic
Apply to bottoms of feet at bedtime as you unwind before going to sleep.
Add doTERRA Serenity to a warm bath with Epsom salts to create a relaxing, renewing soak experience.
Apply drops to the back of the neck or on the heart to help create moments of tranquility.
Household
Diffuse three to four drops of doTERRA Serenity oil to create a serene environment as you prepare for bed.
Add 5-10 drops of doTERRA Serenity oil in a spray bottle of water and mist over your sheets before bed for an aromatically restful linen spray.
Directions for Use
Diffusion: Use three to four drops in the diffuser of your choice.
Topical use: Apply one to two drops to desired area. Dilute with a carrier oil to minimize any skin sensitivity.
Cautions
Possible skin sensitivity. Keep out of reach of children. If you are pregnant, nursing, or under a doctor's care, consult your physician. Avoid contact with eyes, inner ears, and sensitive areas.
---
Share this Product
---