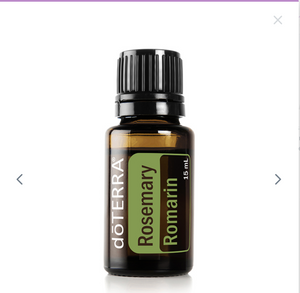 doTerra Essential Oils
Rosemary - 15ml Essential Oil
Regular price
$27.33
$0.00
Unit price
per
Rosemary essential oil is distilled from the leaves and flowers of the herb plant, which is traditionally used in cooking. Rosemary essential oil has an invigorating, sharp, clean aroma that is commonly diffused and has a revitalizing, soothing sensation on the skin that makes it popular for use in massage and haircare.
Description
Why should I add Rosemary oil to my collection? Rosemary essential oil is unique among herb essential oils for its practical application to haircare—one of its most common and unique uses, thanks to its high α-pinene content. With an aroma that is herbal like Tea Tree oil and camphoraceous like Eucalyptus oil, Rosemary essential oil has a particularly invigorating aroma that is similar to both fir and herb essential oils and makes its scent a versatile hybrid of the two.
 Uses
Cosmetic
Blend one drop of Rosemary oil with one drop each of Tea Tree oil and Basil oil for a stimulating aroma in a scalp massage.
Add five drops of Rosemary essential oil to a nickel-sized dollop of shampoo to promote healthy-looking hair.
Combine several drops of Rosemary oil with Frankincense oil and Epsom salts for a rejuvenating, earthy aroma during a warm bath.
Blend one drop of Rosemary oil with one drop of Wintergreen oil and Fractionated Coconut Oil for a minty, invigorating aroma during a soothing massage.
Food
Add one to two drops of Rosemary oil to vegetable recipes and favorite entrees.
Household
Diffuse three to five drops of Rosemary oil while studying for a stimulating aroma.
Diffuse equal drops of Rosemary oil and Lavender oil for a soothing, spa-like scent.
Directions for Use
Diffusion: Use three to four drops in the diffuser of your choice.
Internal use: Dilute one drop in 120 mL of liquid.
Topical use: Apply one to two drops to desired area. Dilute with a carrier oil to minimize any skin sensitivity.
Cautions
Possible skin sensitivity. Keep out of reach of children. If you are pregnant, nursing, or under a doctor's care, consult your physician. Avoid contact with eyes, inner ears, and sensitive areas.
---
Share this Product
---