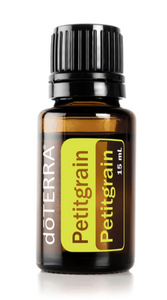 doTerra Essential Oils
Petitgrain - 15ml Essential Oil
Regular price
$42.67
$0.00
Unit price
per
Cherished for its fresh, earthy, slightly herbal aroma, Petitgrain essential oil is widely used as a staple scent in perfumes, colognes, and body care products. However, the potential of this oil extends far beyond perfumery. doTERRA Petitgrain essential oil is a registered Natural Health Product that holds valuable therapeutic benefits when used in aromatherapy. 
Description
Petitgrain is one of three essential oils that is steam distilled from the bitter orange tree. Orange oil is traditionally produced from the peels and rinds of the fruits, Neroli oil is distilled from the blossoms, and Petitgrain comes from distilling the twigs and leaves.
To experience the therapeutic benefits of Petitgrain oil, diffuse at key times throughout the day when you are in need of its calmative effects. You may also apply Petitgrain oil to your wrists and pulse points, or to the bottoms of your feet at the open or close of your day. Using Petitgrain oil as an aromatic component in an aromatherapy massage can help relieve joint and muscle pain associated with sprain, strain, and rheumatoid arthritis.
Uses
Used in aromatherapy as a nervine/calmative.  
Used in aromatherapy to help relieve joint/muscle pain associated with sprain/strain/rheumatoid arthritis.
Directions for Use
Diffusion: Use three to four drops in the diffuser of your choice.
Topical use: Apply one to two drops to desired area. Dilute with a carrier oil to minimize any skin sensitivity.
Cautions
Not for oral use. Keep out of reach of children. External use only. Avoid contact with eyes and mucous membranes; if this happens, rinse thoroughly with vegetable oil. If accidental ingestion occurs, seek urgent medical attention or contact a Poison Control Center. Consult a health care practitioner prior to use if you have epilepsy or asthma, or if symptoms persist or worsen. If you are pregnant or breastfeeding do not use this product. Do not expose the applied area(s) to the sun for 24 to 48 hours after application. If you experience nausea, dizziness, headache, or an allergic reaction, discontinue use. For prolonged use, consult a healthcare practitioner.
---
Share this Product
---