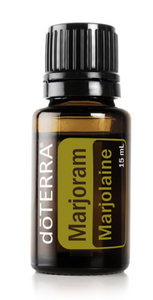 doTerra Essential Oils
Marjoram 15ml Essential Oil doTerra
Regular price
$32.33
$0.00
Unit price
per
Also known as "wintersweet" or "joy of the mountains," marjoram was known to the ancient Greeks and Romans as a symbol of happiness. In Germany, the marjoram herb is known as the "Goose Herb" for its traditional use in flavouring roasted geese. Marjoram essential oil shares the rich, herbaceous flavour of its source herb and is renowned for adding a warm, unique flavour to soups, stews, dressings, and sauces. In modern applications, Marjoram oil is valued for its calming aroma when diffused or used during a soothing massage, especially after exercise.
Description
Why should I add Marjoram oil to my collection? Due to its high concentration of the chemical constituent terpinen-4-ol, Marjoram essential oil has soothing topical properties when incorporated into a massage. It also possess effective topical cleansing benefits. Create a relaxing environment before bed by diffusing Marjoram oil or gently apply it to the back of your neck and shoulders for a refreshing, calming scent as you end the day.
 Uses
Cosmetic
Apply one to two drops of Marjoram essential oil on the bottoms of your feet prior to bedtime for a calming scent.
Apply one to two drops of Marjoram oil to back of your neck and shoulders for a relaxing aroma.
Dilute one drop of Marjoram oil with five drops of Fractionated Coconut Oil and apply after exercise for a soothing sensation.
Food
Replace Marjoram oil in a recipe that calls for dried Marjoram for a delicious herbal taste.
Infuse two to three drops of Marjoram oil in Olive Oil for a refreshing salad dressing, marinade, or bread dip.
Household
Diffuse two to three drops of Marjoram oil with Cedarwood oil and Lavender oil for a relaxing pre-bedtime scent.
Mix a few drops of Marjoram oil and Lavender oil with water. Spray on sheets and linens for a restful fragrance.
Directions for Use
Diffusion: Use three to four drops in the diffuser of your choice.
Internal use: Dilute one drop in 120 mL of liquid.
Topical use: Apply one to two drops to desired area. Dilute with a carrier oil to minimize any skin sensitivity.
Cautions
Possible skin sensitivity. Keep out of reach of children. If you are pregnant, nursing, or under a doctor's care, consult your physician. Avoid contact with eyes, inner ears, and sensitive areas.
---
Share this Product
---