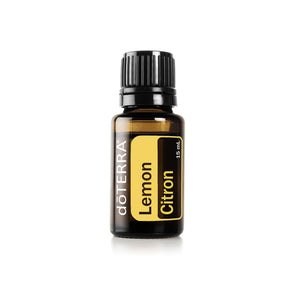 doTerra Essential Oils
Lemon Essential Oil - 15 ml - doTerra
Regular price
$18.67
$0.00
Unit price
per
Cold pressed from the peels of the bright, yellow lemon fruit, Lemon essential oil is a top-selling doTERRA favourite because of its versatility. Lemon oil is frequently added to food to enhance the flavour of desserts and main dishes. When added to water, Lemon oil gives a bright taste that helps encourage hydration throughout the day. Whether it is used as a naturally sourced cleaning agent in the home or diffused to brighten a room with its invigorating aroma, Lemon essential oil holds countless benefits.
Description
Why should I add Lemon oil to my collection? Lemon essential oil has high contents of limonene—a key constituent in citrus oils, giving it strong cleansing properties when used topically. Use Lemon oil to clean commonly used surfaces or as an oral rinse for a brightening effect on teeth. When fresh lemons are not available, Lemon oil can add the same bright, citrus flavour to water or your favourite recipes.
 Uses
Cosmetic
Add one to two drops of Lemon essential oil to hand soap to help eliminate grease after working on a car or bike.
Incorporate Lemon oil into your evening skincare routine to give your complexion a refreshed, healthy-looking glow.
Combine a drop of Lemon oil with baking soda and coconut oil, rub on teeth for two minutes, and rinse for a brightening effect.
Food
Add two drops of Lemon oil to water for a bright taste that encourages hydration.
Add one to two drops of Lemon oil to your favourite dessert recipes for a refreshing citrus flavour.
Household
Place a few drops of Lemon oil on a rag to help remove stubborn, sticky residue.
Add 10 drops of Lemon oil to spray bottle of water to clean tables, countertops, and other surfaces.
Diffuse three to four drops of Lemon essential oil to create an uplifting environment.
Directions for Use
Diffusion: Use three to four drops in the diffuser of your choice.
Internal use: Dilute one drop in 120 mL of liquid.
Topical use: Apply one to two drops to desired area. Dilute with a carrier oil to minimize any skin sensitivity.
Cautions
Possible skin sensitivity. Keep out of reach of children. If you are pregnant, nursing, or under a doctor's care, consult your physician. Avoid contact with eyes, inner ears, and sensitive areas. Avoid sunlight or UV rays for up to 12 hours after applying product.
---
Share this Product
---