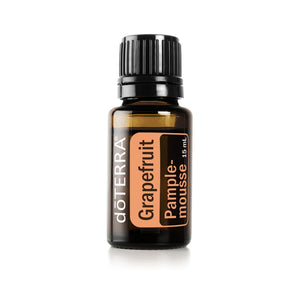 doTerra Essential Oils
Grapefruit -15mL Essential Oil
Regular price
$32.00
$0.00
Unit price
per
Known for its energizing and invigorating aroma, Grapefruit oil helps create an aromatically uplifting environment. Grapefruit essential oil is also renowned for its cleansing properties and is frequently used in skin care to promote the appearance of clear, healthy-looking skin.
Description
Why should I add Grapefruit oil to my collection? Like other citrus oils, Grapefruit essential oil contains high amounts of the chemical constituent limonene—providing it with powerful topical cleansing properties that can be applied to household surfaces. These cleansing properties contribute to Grapefruit oil's ability to help clean and improve the appearance of skin and promote healthy-looking hair. Grapefruit oil can help promote hydration when added to water or enhance desserts and smoothies with its sweet, delicious flavour.
 Uses
Cosmetic
Add one drop of Grapefruit essential oil to shampoo for an added cleansing affect and increased shine to hair.
Add one drop of Grapefruit oil to your nightly facial cleanser to improve the appearance of skin.
Combine Grapefruit oil with Fractionated Coconut Oil and massage into skin for an aromatically soothing experience.
Food
Add one to two drops of Grapefruit oil to favourite dessert recipes for a refreshing citrus flavour.
Add two drops of Grapefruit oil to four ounces of water when craving sweets.
Household
Diffuse three to four drops of Grapefruit oil for an aromatic pick-me-up during a busy day.
Combine a few drops of Grapefruit oil in a glass spray bottle of water and apply to surfaces for an added cleansing benefit.
Directions for Use
Diffusion: Use three to four drops in the diffuser of your choice.
Internal use: Dilute one drop in 120 mL of liquid.
Topical use: Apply one to two drops to desired area. Dilute with a carrier oil to minimize any skin sensitivity.
Cautions
Possible skin sensitivity. Keep out of reach of children. If you are pregnant, nursing, or under a doctor's care, consult your physician. Avoid contact with eyes, inner ears, and sensitive areas. Avoid sunlight or UV rays for up to 12 hours after applying product.
---
Share this Product
---