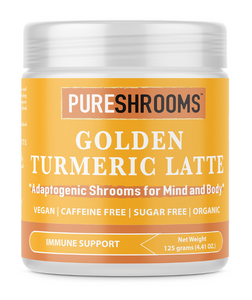 PureShrooms
PureShrooms Golden Turmeric Latte
Regular price
$29.95
Sale price
$32.30
Unit price
per
Power Up Your Mornings with this Brew for Elevated Energy, Focus, and Immune support: KETO-FRIENDLY WITH NO SUGARS, NO STEVIA, NO SWEETENERS.
Rich and creamy, and has just the right amount of spices and sweetness to keep you feeling relaxed and satisfied. Soothing and smooth, slightly gingery blend.
The Best Tasting Turmeric Latte! A Must Have!
Skin Care, Immune Support and Overall Well-being. 
Formulated with Lion's Mane to support cognitive health, Turkey Tail to support the immune system, and the warm aromatic spices, Cinnamon Ceylon, Ginger, Cardamom, Black Pepper Extract, and Tulsi to give the blend an incredible aroma and a warm soothing flavour.
Living a Healthier Lifestyle.
Implementing superfoods such as Turmeric and Ginger seamlessly into your daily diet can take your overall general health to another level. Turmeric's most active compound, curcumin — has many scientifically proven health benefits, such as the potential to improve heart health, act as an anti-inflammatory, and is rich in antioxidants. Keeping you happier and healthier!
Immune Support with Turkey Tail.
Rich in vitamins and minerals, Turkey Tail is known as a super-antioxidant. Turkey Tail can reduce inflammation, support daily immune functions, and your overall well-being. 
Lion's Mane + Turkey Tail
Packed with potential health benefits that'll have you feeling like a fun-gi in no time! From immune support to brain health, these powerful 'shrooms are the ultimate tag-team duo.
---
Share this Product
---