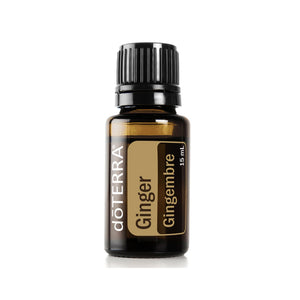 doTerra Essential Oils
Ginger - Essential Oil
Regular price
$70.00
$0.00
Unit price
per
Ginger essential oil is derived from the fresh rhizome of the ginger plant, sourced in Madagascar. Ginger oil has a hot, spicy flavour that can take the place of whole ginger in recipes or add a warm, sweet taste when added to your favourite herbal tea. Ginger essential oil can also be applied topically or inhaled for a soothing aroma.
Description
Why should I add Ginger oil to my collection? The main chemical constituent of Ginger essential oil is zingiberene, giving Ginger its renowned, spicy flavour and making it a popular ingredient in many Asian dishes. When inhaled, the energizing aroma of Ginger oil can help provide moments of calm during car rides or long periods of time in motion. Ginger oil also produces a warm, soothing aroma when diffused or during a personal massage.
 Uses
Cosmetic
Apply one to two drops of Ginger essential oil over lower abdomen for a soothing massage after a meal.
Place one drop of Ginger oil in hands and inhale the energizing scent during car rides.
Add one drop of Ginger oil to warm bath water for a soothing aromatic experience.
Food
Combine one drop of Ginger oil with one drop of Lemon oil and honey in hot water for a soothing tea.
Use one drop of Ginger oil in place of whole ginger in sweet and savoury recipes.
Household
Diffuse three to four drops of Ginger oil for an invigorating aroma in the late afternoon.
During cold seasons, diffuse three drops of Ginger oil with two drops Wild Orange oil for a warming aroma.
Directions for Use
Diffusion: Use three to four drops in the diffuser of your choice.
Internal use: Dilute one drop in 120 mL of liquid.
Topical use: Apply one to two drops to desired area. Dilute with a carrier oil to minimize any skin sensitivity.
Cautions
Possible skin sensitivity. Keep out of reach of children. If you are pregnant, nursing, or under a doctor's care, consult your physician. Avoid contact with eyes, inner ears, and sensitive areas.
---
Share this Product
---