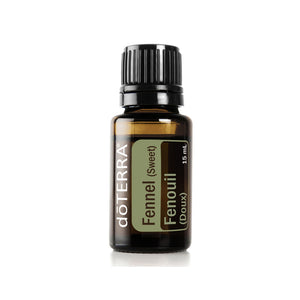 doTerra Essential Oils
Fennel (Sweet) 15mL Essential Oil
Regular price
$28.00
$0.00
Unit price
per
The history of fennel dates back to ancient times when Roman warriors were said to have consumed fennel to make ready for battle. Today, Fennel essential oil is best known for its distinct licorice taste that can be used to flavour desserts, and for its refreshing, sweet scent that can enrich any atmosphere. When applied topically, Fennel oil provides a soothing sensation on the skin and helps keep skin looking healthy.
Description
Why should I add Fennel oil to my collection? Fennel essential oil is made up of chemical components known for their energizing and uplifting aromatic properties. E-anethole, the primary chemical constituent of Fennel oil, is distinctly sweet, providing a naturally sourced taste perfect for when you experience sugar cravings. The presence of fenchol also contributes to the energizing aroma of Fennel oil—most commonly admired when diffused or used during a soothing massage.
 Uses
Cosmetic
Combine Fennel essential oil with your daily moisturizer and apply to keep skin looking healthy.
Apply one to two drops of Fennel oil topically to stomach for a soothing abdominal massage after a filling meal.
Combine one drop of Fennel oil with one drop Lavender oil and apply to neck and chest for a relaxing massage.
Add one to two drops Fennel essential oil to two ounces of water and gargle to help freshen breath.
Food
Add one to two drops of Fennel essential oil to your favourite desserts for a distinct licorice flavour.
Add one drop Fennel oil to water or tea to help satisfy a craving for sweets.
Household
Diffuse three to four drops of Fennel essential oil in home or office for an energizing aroma that will support a productive day.
Directions for Use
Diffusion: Use three to four drops in the diffuser of your choice.
Internal use: Dilute one drop in 120 mL of liquid.
Topical use: Apply one to two drops to desired area. Dilute with a carrier oil to minimize any skin sensitivity.
Cautions
Possible skin sensitivity. Keep out of reach of children. If you are pregnant, nursing, or under a doctor's care, consult your physician. Avoid contact with eyes, inner ears, and sensitive areas.
---
Share this Product
---