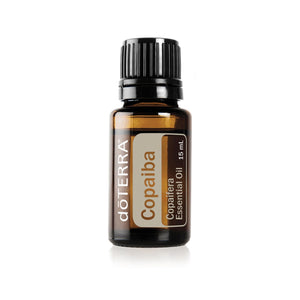 doTerra Essential Oils
Copaiba Essential Oil - 15 ml - doTerra
Regular price
$65.33
$0.00
Unit price
per
Derived from the resin of the copaiba tree, Copaiba essential oil has a calming, woody aroma often diffused for its gentle, soothing scent. Copaiba essential oil has a thick, soft consistency and is soothing to the skin. Because of its rich topical properties, Copaiba essential oil is widely used to improve the appearance of skin.
Description
Why should I add Copaiba oil to my collection? Copaiba essential oil has a uniquely mellow, wood-like aroma thanks to its primary chemical constituent, caryophylene. Caryophylene is the same constituent that gives Black Pepper essential oil its distinguished sharp aroma, of which Copaiba essential oil is mildly reminiscent. Copaiba essential oil also contains properties that make it more gentle, topically soothing, and richly moisturizing than many other wood and resin essential oils used in personal care (such as Frankincense oil or Cedarwood oil).
 Uses
Cosmetic
Combine one drop of Copaiba essential oil with 60 mL of water and gargle for a fresh mouth rinse.
Place two drops of Copaiba oil in a warm bath for a calming aroma.
Add two drops of Copaiba oil and Epsom salt to a warm footbath for a soothing aroma.
Add to one drop of Copaiba oil to a daily facial moisturizer to enhance the appearance of healthy-looking skin.
Massage several drops of Copaiba oil into hands, wrists, and elbows for a soothing and moisturizing effect.
Household
Diffuse three to five drops of Copaiba oil for an uplifting aroma during daily activity.
Combine two drops of Copaiba oil with two drops of Eucalyptus oil in a diffuser for an invigorating yet calming aromatic blend.
Directions for Use
Diffusion: Use three to four drops in the diffuser of your choice.
Topical use: Apply one to two drops to desired area. Dilute with a carrier oil to minimize any skin sensitivity.
Cautions
For external use only. Possible skin sensitivity. Keep out of reach of children. If you are pregnant, nursing, or under a doctor's care, consult your physician. Avoid contact with eyes, inner ears, and sensitive areas.
---
Share this Product
---