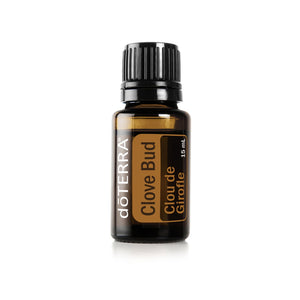 doTerra Essential Oils
Clove Bud -15mL Essential Oil
Regular price
$28.67
$0.00
Unit price
per
Clove Bud essential oil, distilled from the common cooking spice, has an energizing and stimulating aroma as well as skin-warming and surface cleansing topical properties. Clove Bud essential oil has many useful applications, including aromatic diffusion, oral hygiene and personal care, massage, and cooking.
Description
Why should I add Clove Bud oil to my collection? The main chemical component in Clove Bud essential oil, eugenol, gives it a very stimulating and energizing aroma and also gives Clove Bud essential oil its renowned cleaning properties. Compared to other eugenol rich oils like Cinnamon Bark essential oil, Clove Bud essential oil is particularly suited for oral use, making it ideal for cleansing and freshening the mouth, teeth, and gums.
 Uses
Cosmetic
Add one drop of Clove Bud essential oil to a toothbrush before applying toothpaste.
Combine one to two drops of Clove Bud oil with doTERRA Spa Hand & Body Lotion for a skin-warming lotion.
Dilute one drop of Clove Bud oil with Fractionated Coconut Oil and apply topically during a soothing massage for a warm, energizing aroma.
Place one drop of Clove Bud oil in 60 mL of water and gargle for a refreshing, clean-feeling mouth rinse.
Combine two drops of Clove Bud oil, two drops of Tea Tree oil, and honey for a cleaning facemask.
Food
Use Clove Bud oil as a substitute for ground clove when baking treats.
Add one drop of Clove Bud oil to hot cider or holiday wassail for added spiced flavor.
Household
Combine two drops each Clove Bud oil, Cinnamon Bark oil, and Tangerine oil with water in a spray bottle for a room spray with an energizing aroma.
Directions for Use
Diffusion: Use three to four drops in the diffuser of your choice.
Internal use: Dilute one drop in 120 mL of liquid.
Topical use: Apply one to two drops to desired area. Dilute with a carrier oil to minimize any skin sensitivity.
Cautions
Possible skin sensitivity. Keep out of reach of children. If you are pregnant, nursing, or under a doctor's care, consult your physician. Avoid contact with eyes, inner ears, and sensitive areas.
---
Share this Product
---