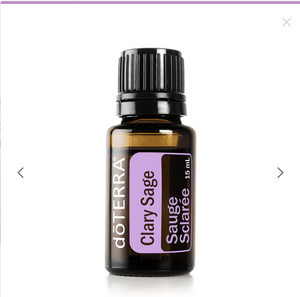 doTerra Essential Oils
Clary Sage Oil 15ml
Regular price
$62.33
$0.00
Unit price
per
Clary Sage is a biennial or perennial herb that grows up to six feet in height. Clary Sage is known for its calmative properties and benefits to the skin. Clary Sage is also ideal for helping to relieve joint and muscle pain associated with rheumatoid arthritis. NPN 80060984.
Uses
Cosmetic
Apply topically to soothe and soften dry skin
Combine with Lavender and add to bath water for a soothing fragrance
Add to shampoo or conditioner to promote healthy-looking hair and scalp
Apply to bottom of feet at bedtime to promote feelings of calmness and relaxation
Add two drops to a warm washcloth and place over closed eyes for several minutes
Dilute with Fractionated Coconut Oil and place on abdomen for a soothing massage
Household
Diffuse two drops Clary Sage, Frankincense, and Wild Orange during meditation. 
Therapeutic
Used in aromatherapy as a nervine and calmative.
Used in aromatherapy to help relieve headache.
Used in aromatherapy to help relieve colds and cough.
Used in aromatherapy to relieve minor skin irritation, cuts, bruises, and burns.
Used in aromatherapy as a carminative and antispasmodic for symptomatic relief of digestive discomfort.
Used in aromatherapy to help relieve joint and muscle pain associated with sprain, strain, and rheumatoid arthritis.
Cautions
Not for oral use. Keep out of reach of children. External use only. Avoid contact with eyes and mucous membranes; if this happens, rinse thoroughly with vegetable oil. If accidental ingestion occurs, seek urgent medical attention or contact a Poison Control Center. Consult a health care practitioner prior to use if you have epilepsy or asthma, or if symptoms persist or worsen. If you are pregnant or breastfeeding do not use this product. Do not expose the applied area(s) to the sun for 24 to 48 hours after application. If you experience nausea, dizziness, headache, or an allergic reaction, discontinue use. For prolonged use, consult a healthcare practitioner.
---
Share this Product
---