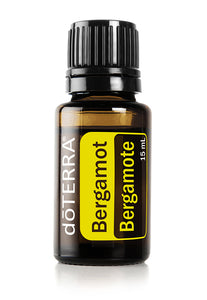 doTerra Essential Oils
Bergamot -15mL Essential Oil
Regular price
$54.67
$0.00
Unit price
per
Bergamot essential oil has a calming yet uplifting aroma and is packed full of cleansing properties. Sweet yet bitter in taste, soothing yet joyful in scent, and delicate yet strong in nature, Bergamot oil is a delightful contradiction in the citrus world.
Uses
Cosmetic
Combine one to two drops Bergamot oil with Fractionated Coconut Oil for a bright, relaxing aroma during a soothing massage.
Add one drop Bergamot oil to facial cleanser during a nighttime skincare routine for enhanced skin-cleansing benefits.
Apply two drops Bergamot oil to the bottoms of feet before bedtime for a relaxing fragrance.
Food
Add a few drops Bergamot oil to desserts for a unique citrus flavor.
Change regular tea to Earl Grey by adding one drop Bergamot oil.
Household
Diffuse three to four drops Bergamot oil for a relaxing, positive aroma before bed.
Diffuse three to four drops Bergamot oil in classroom, at work, or in the home to create an aromatically calm environment.
Directions for Use
Diffusion:
Use three to four drops in the diffuser of your choice.
Internal use:
Dilute one drop in 120 mL of liquid.
Topical use:
Apply one to two drops to desired area. Dilute with a carrier oil to minimize any skin sensitivity.
---
Share this Product
---