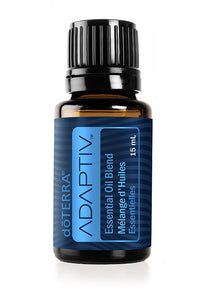 doTerra Essential Oils
Adaptiv® - 15mL Essential Oil - doTerra
Regular price
$64.00
$0.00
Unit price
per
Grounding and sweet, the aroma of Adaptiv™ essential oil blend is a beautiful combination of Wild Orange, Lavender, Copaiba, Spearmint, Neroli, Magnolia, and Sweetgum essential oils. The Adaptiv blend was purposefully designed to provide an aroma of calm and confidence, acting as the perfect companion for your busiest days. Use Adaptiv to help create a comfortable environment when you find yourself confronted with new surroundings or situations. The sweet, citrusy, floral notes create an aromatically peaceful atmosphere throughout your space whether by diffusion or topical use.
Description
 Why should I add Adaptiv Essential Oil Blend to my collection? Adaptiv essential oil blend is expertly crafted with essential oils that provide a synergistic bouquet of steadiness and support. Lavender, Neroli, and Magnolia oils possess calming, pleasant floral fragrances. All three contain the chemical constituent Linalool, granting Adaptiv oil blend its richly relaxing aromatic profile. Wild Orange oil adds an encouraging note of citrus while the aroma of Spearmint energizes and uplifts the atmosphere. Rosemary and Copaiba oils round out the blend with their calming scents. Use Adaptiv for an aromatic neck massage, diffuse in your favourite diffuser, or rub on the bottoms of your feet as you start or end the day.
 Uses
Cosmetic
Massage one to two drops of Adaptiv oil into the back of neck and shoulders for an aromatically relaxing massage.
Gently apply one to two drops of Adaptiv oil to wrists for a tranquil midday aroma.
Rub one to two drops of Adaptiv oil into bottoms of your feet in the morning or evening for a calming, centering aroma.
Soak in a relaxing Epsom Salt bath by adding three to four drops of Adaptiv blend to your bath water.
Household
Diffuse three to four drops of Adaptiv oil after a long day for a comforting, centered aroma.
Add one to two drops of Adaptiv oil to diffuser jewelry periodically throughout the day to support a soothing environment.
Directions for Use
Diffusion: Use three to four drops in the diffuser of your choice.
Topical use: Apply one to two drops to desired area. Dilute with a carrier oil to minimize any skin sensitivity.
Cautions
Possible skin sensitivity. Keep out of reach of children. If you are pregnant, nursing, or under a doctor's care, consult your physician. Avoid contact with eyes, inner ears, and sensitive areas. Avoid sunlight or UV rays for up to 12 hours after applying product.
---
Share this Product
---